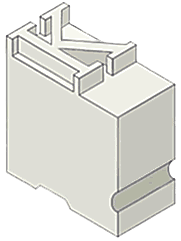 K-Type is a small, independent type foundry based in Manchester England, offering a unique range of high quality 'free for personal use' fonts, and pay fonts which are modestly and simply priced for designers, small businesses and large organisations.
K-Type is the foundry of designer and mailartist, Keith Bates. Many K-Type fonts show the influence of inspirational artists and designers, and are often imbued with a playful wit, genuine affection or honourable homage. Other K-Types explore the quirky mix of insular and eclectic that has forged the typographical landscape of Britain, including the considerable allure of American letterforms.
The resulting faces are reliable and eminently usable. Newer K-Type fonts feature a full complement of Latin Extended-A characters, and increasingly offer a selection of weights and italics.
To celebrate the launch of the K-Type website, we're giving away our web-friendly Sinkin Sans megaface absolutely free for Commercial and Personal use. Specially developed for the site, it's a robust sans serif in nine weights plus italics that's raring to be @font-faced!